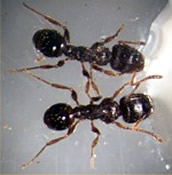 Small black pavement ants.
Our "Ant" treatments eliminate these little pests permanently.
"Unconditional 60 + day Warranty on all Treatments"
Ants are one of the most sophisticated insects on the planet.
Ants usually nest outdoors in the ground. When they do enter buildings they are seeking shelter and food and will eat almost every kind of food.  These little home invaders are looking for sweets and or protein based food sources. Our treatment is designed to provide them with a menu of treats "baits" that appeal to their appetite with both types of foods sources.
"The goal when doing an ANT TREATMENT T is colony elimination"
Ants are one of the most difficult pests to treat. There are over 700 species with about 25 of those species who invade homes. Knowing the type of ant and their habits is critical to a successful treatment.
The use of a combination of products in our treatments ensures we get every type of Ant that could be invading your home.
Below is a list of a few different species.
Acrobat , Argentine, Big-headed, Carpenter, Cornfield, Crazy, Field, Ghost, Harvester, Little black, Pyramid , Odorous house, Pavement, Pharaoh, Red Imported Fire Ant, Rover, Thief and White Footed.
DON'T WAIT BECAUSE THEIR COLONY WILL ONLY GROW!
CALL TODAY FOR SERVICE 973-932-2092