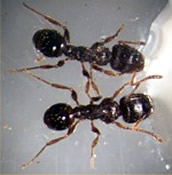 Small black pavement ants.
Our "Ant" treatments eliminate these little pests permanently.
"Unconditional 30 + day Warranty on all Treatments"
Ants usually nest outdoors in the ground. When they do enter buildings they are seeking shelter and food and will eat almost every kind of food.  These little home invaders are looking for sweets and or protein based food sources. Our treatment is designed to provide them with a menu of baits that appeal to both sides of their appetite.
Ants are a sophisticate and social insect. Their hierarchy includes workers that gather food for the colony. We use products that are "scientifically developed" and become one of their food sources.
The products we use in our treatment also covers every type of Ant that invade homes in New Jersey.
Below is a list of a few different species.
Acrobat , Argentine, Big-headed, Carpenter, Cornfield, Crazy, Field, Ghost, Harvester, Little black, Pyramid , Odorous house, Pavement, Pharaoh, Red Imported Fire Ant, Rover, Thief and White Footed.
Our definition of a success means colony elimination.
Aside from the wood destroying "Carpenter Ant" there are about 700 species of Ants in the USA and Canada. The good news is that only about 25 species of ants invade homes and we can stop it!
We also apply the same "integrated approach" used in our Rodent treatments, that is identifying where possible and sealing openings. This "integrated approach" will eliminate re-infestation.
DON'T WAIT BECAUSE THEIR COLONY WILL ONLY GROW!
CALL TODAY FOR SERVICE 973-932-2092